Alzheimer's is one of the diseases that is increasing globally. Alzheimer's disease is one of the neurological disorders.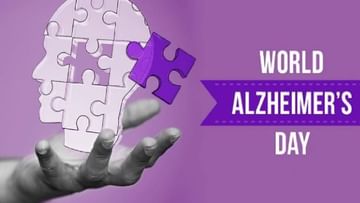 'These' habits increase the risk of Alzheimer's
Among the diseases that are seen to be increasing globally, Alzheimer's (Alzheimer's) is this. Alzheimer's disease is one of the neurological disorders (Neurological disorder) is 6 million people in America are suffering from this disease, while in India, the number of patients of this disease is also increasing. Above 60 years of age (People above 60 years) has been shown to have a higher incidence of Alzheimer's disease. World Alzheimer's Day is observed every year on September 21 to raise awareness about the growing risk of Alzheimer's disease and how to prevent it.
Alzheimer's is a neurological disorder. This causes some part of the brain to shrink. Brain cells can be damaged. Alzheimer's is considered one of the most common causes of dementia. In both of these conditions, there is a continuous decline in the person's thinking, behavior and social skills.
There may also be many difficulties in doing the normal tasks of daily life. Early symptoms of the disease include problems such as forgetting recent events or conversations. Let's learn more about this disorder.
Studies have revealed that anyone can develop Alzheimer's after the age of 60. But some people are at higher risk. People over the age of 65, or those with a family history of the disease, are at a higher risk of developing Alzheimer's disease.
There is no specific cure for Alzheimer's yet. However, some (supportive) treatment after the disease is diagnosed can help prevent the progression of the disease and improve the quality of life of a person with Alzheimer's. That is why all people are advised to know about this neurological disorder and to take measures to prevent it.
According to the doctor, forgetfulness is the most common problem in Alzheimer's. But over time it can also change the behavior of the person. Some of the following problems are commonly seen in patients.
– Difficulty remembering things
– Forgetting people's names.
– Tasks that were easy to do before (now) find it difficult –
– Difficulty solving problems.
– Difficulty speaking or writing.
– Difficulty in making a decision.
– Changes in mood and personality.
These symptoms do not necessarily mean that the person has Alzheimer's. It is necessary to see a doctor to determine the causes of this disease.
Why does Alzheimer's occur?
The exact cause of Alzheimer's disease is still not fully understood. But, the proteins in the brain do not function normally, so the function of the brain cells (neurons) is also disrupted.
Scientists believe that, due to a combination of genetic, lifestyle and environmental factors, most people develop Alzheimer's.
Who is at risk of Alzheimer's?
According to doctors, advancing age is the biggest risk factor for Alzheimer's disease. But not all people have this problem. Individuals whose parent(s) had Alzheimer's.
Those individuals are more at risk of developing the disease. In addition, if a person has Down syndrome, it can also increase the risk of Alzheimer's. Factors such as head trauma or injury, air pollution and alcohol consumption also increase the risk of Alzheimer's.
Treatment of Alzheimer's
There is currently no specific treatment for Alzheimer's. Disease progression can be prevented with the help of medicines and therapy. According to doctors, all people should adopt practices that will prevent Alzheimer's.
– Exercise regularly.
– Eat square, nutritious food, consume nuts.
– Avoid high blood pressure, diabetes and high cholesterol.
– Do not smoke or drink alcohol.
– Do Pranayama.
.