Tazaa News latest news updates,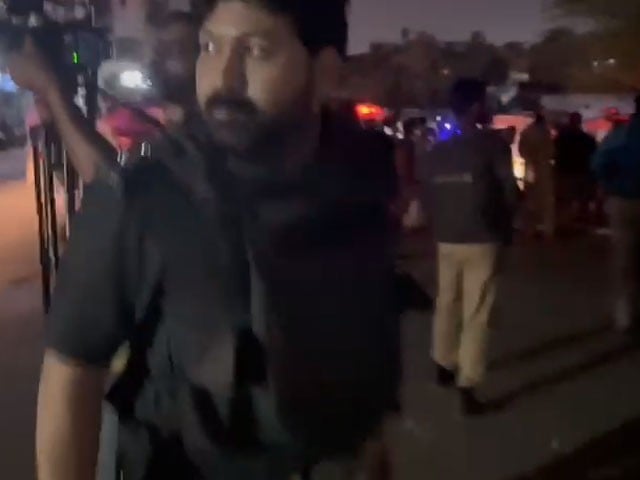 KARACHI: (Web Desk) Exchange of fire continues after terrorists attacked the Karachi Police Office (KPO) in Shaara Faisal area of ​​Karachi.
The Inspector General (IG) of Sindh Police confirmed that 3 terrorists were killed in the exchange of fire.
According to sources, the attack took place at 19:10, there were reports of 8 to 10 attackers in the Karachi police station, heavy gunfire and explosions outside the police station and lights and doors were also heard. The headquarters is closed.
Police sources said that the attackers entered through the police lines and terrorists were also present at the KPO parking lot.
A large contingent of Rangers, police and other law enforcement agencies have been called in and police have cordoned off the police station and both the Shaara Faisal lanes have been closed for traffic, officials said.
According to reports, the third floor of the KPO was also cleared and 20 of its employees were rescued.
20 people who survived from the KPO office were brought to the first floor.
According to the spokesperson of the Special Security Unit, the operations of the commanders against the terrorists are continuing and the fourth floor of the building has also been cleaned.
A terrorist blew himself up on the roof of the Karachi police station
According to police officials, when the security personnel reached the top floor of the building, the terrorist blew himself up on the roof of the Karachi police station.
Police authorities say that 3 terrorists have been killed so far.
DIG South says that the terrorists are fully prepared, the terrorists attacked from 2 to 3 sides, there are 40 to 50 people in the building, they are fighting hard against the attackers, the forces are from all over the city. , Rangers and the Army are there, the final number of terrorists is unknown, people are trapped inside the building and the operation continues.
The administration of Jinnah Hospital says that so far 10 injured and two dead bodies have been brought, security guards and police personnel are also among the injured.
The wounded rescuer received 2 shots, his condition is not in danger.