Tazaa News latest news updates,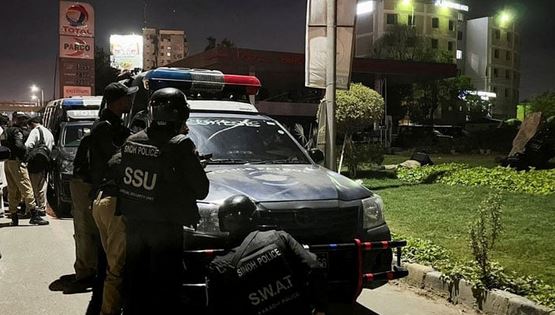 KARACHI: (Web Desk) After the attack on the police station, a mopping up operation was completed, during the operation all the terrorists were killed and the building was cleared.
After the end of the operation, Sindh President Murad Ali Shah confirmed that there were 3 attackers, all three were killed and 2 policemen, a Rangers officer and a civil servant died while showing courage against the terrorists.
Karachi police station was attacked at 19:30, terrorists managed to enter the building despite resistance, heavy firing and hand grenades were used, gunshots and explosions were heard from time to time.
According to these incidents, terrorists attacked the Karachi police station at 19:00, gunshots and explosions were also heard near the police station, the area resounded with heavy gunfire and explosions, heavy police forces were called from all sides. city done
Officers were present at the police station, immediately after the attack, the police officers turned off all the lights of the KPO, the attackers threw a grenade from behind the police station, the terrorists entered the Karachi police station, fired intermittently.
According to police officials, the attackers were in a group, it was a planned attack, the armed terrorists entered despite resistance and managed to reach the parking lot.
According to the police officers, 20 to 25 grenade attacks were carried out on the terrorists.
According to DIGRRF, the terrorists were armed with suicide jackets, they had also brought gram, all the items were brought in a blue bag.
A heavy contingent of police and Rangers conducted a joint operation against the attack on the Karachi Police Headquarters, Pakistan Army soldiers were also present, the rioters took full retaliatory action and officers raised slogans during the search.
According to the list of injured and dead brought to Jinnah Hospital, 18 people including 4 dead were brought to Jinnah Hospital, among the dead are Police Constable Ghulam Abbas, Ranger Officer Timur 24, Hakrub Ajmal Masih and one unidentified person. Among them, 7 wounded are in serious condition.