Tazaa News latest news updates,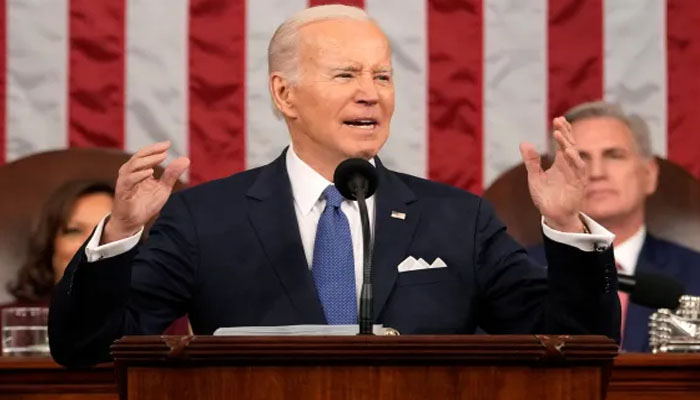 US President Joe Biden has said that China should not make a mistake, if China threatens US sovereignty, it will respond strongly, and last week we showed it.
In his message to the State of the Union, Joe Biden said that before I came to power, there was a rumor that China's power was growing and America was getting weaker, now America is not going down in the world.
He said that I made it clear to President Xi that we want competition, not conflict, investing in constructive work in industrial processes is the guarantee of the future.
President Joe Biden said that Putin's aggression is a test of America and the world, as long as the war continues, the United States will stand by Ukraine.
In his speech, the President of the United States called on the rival Republicans to work together to improve the economy, saying that he wants to work together instead of fighting against the opposition.
Joe Biden claimed that inflation in America has decreased in the last six months and people's incomes have increased.
"We've created more jobs, we're exporting American products and we're creating more jobs," he said.
The American president said that inflation due to Corona is a global problem, energy and food problems also arose due to the war between Russia and Ukraine.
President Joe Biden said that we are in a better position than any country in the world, we still have a lot of work to do, the price of food and drinks in the US is going down.
He said that while China wants to dominate the manufacturing process, we also need the best infrastructure to maintain a strong global economy.
Joe Biden added that America used to be number one in infrastructure, then it became 13th, we allocated funds for 20,000 projects.
The President of the United States said that 25 percent of the national debt was incurred during the Trump era, and during this period, a historic budget deficit was created, reducing the budget deficit by 1.7 trillion dollars in 2 years.
Joe Biden said that the debt was taken in 200 years, so much was taken in 4 years of Trump.
He said that the Republicans threaten to bankrupt America if they don't reduce social security. I won't let America go bankrupt.
The US president said that with 12th grade education in the 21st century unable to compete economically, children between the ages of 3 and 4 should be given access to preschool.
The American president said that Russia's attack on Ukraine is a test not only for America, but for the world. We stand with the people of Ukraine against Putin's aggression.
He said that we stand for independence, fundamental principles, we stand for the protection of democracy, we joined NATO to create a global alliance.
"If Congress passes an abortion bill, I will veto it," Biden said.
.