Tazaa News latest news updates,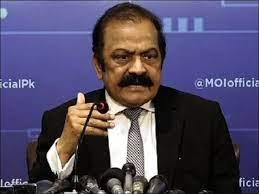 Islamabad: (Web Desk) Federal Interior Minister Rano Sanaullah says he still stands by his promise that he did not shoot Imran Khan four times.
In an interview given to a private television, he said that an independent medical panel should be formed to investigate Imran Khan's injuries, if it is proved that four bullets were fired, then he will resign, otherwise Imran Khan should leave politics. we know this moment too.. Yes, during the shooting there was only one person who was shooting, I am standing in my position.
Regarding the murder of Arshad Sharif, Rana Sanoullo said that if 6 people take Faisal Vavda, Murad Said, Tariq Vasi, Salman Iqbal, Waqar and Khurram for investigation, then in 6 hours they will reveal all the facts of the murder of Arshad Sharif. Tariq Wasi sent Arshad Sharif at the request of Salman Iqbal. There is no doubt that the shooting in Kenya was a cover-up. Arshad Sharif has been proven to be the commander. Salman Iqbal has gone to London. If mother gets a visa, she should come to London.
Rana Sanaullah said that the condition of their long march has weakened, perhaps our readiness will remain in the axis, the agreement of Islamabad is the agreement of Pakistan, we will not allow this to happen, if there is an agreement with the organization of this Jatha Islam, if they attack Abad, they give a strong answer.
The Federal Minister of Interior said that they tried to make two things controversial. These people want to make the appointment of the army chief controversial. It will be a spectacle in itself, we are trying not to get involved, this is the first long march. which is under the protection of the police and is conducted by the government, and this cannot be done.