Tazaa News latest news updates,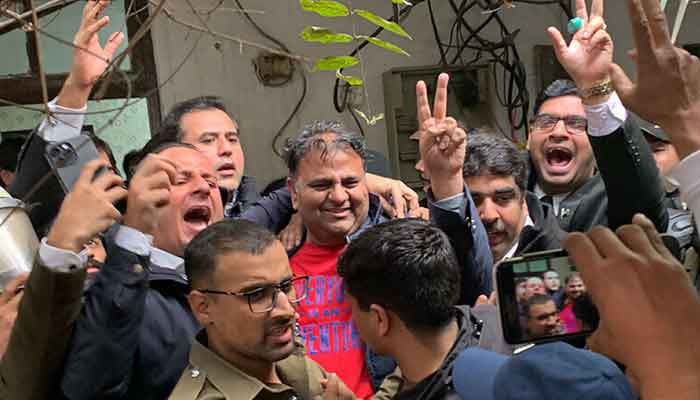 Rawalpindi: Pakistan Tehreek-e-Insaaf leader Fawad Chaudhry has been released from Adiala Jail.
According to the sources, Fawad Chaudhry underwent medical examination in Adiala prison before his release, the staff of the prison hospital declared Fawad Chaudhry healthy.
Fawad Chaudhry requested to give his belongings and clothes to the poor prisoners when he was released.
Fawad Chaudhry's family and a large number of PTI workers were present outside Adiala Jail to welcome Fawad Chaudhry.
It is worth mentioning that today the additional session judge of Islamabad Faizan Haider Gelani granted bail to Fawad Chaudhry.
After hearing the arguments of the parties, Additional Sessions Judge Faizan Gelani granted Fawad Chaudhry's post-arrest bail application and ordered him to furnish a surety of Rs 20,000.
Additional Sessions Court Faizon Haider Gelani while granting conditional bail to Fawad Chaudhry noted that he will grant bail on the condition that Fawad Chaudhry does not make such statements again, MPs should not make such statements.
It is worth mentioning that Fawad Chaudhry was arrested in a hate speech case against the Election Commission.
.