Tazaa News latest news updates,
Multan Sultans easily defeated Quetta Gladiators to get their first win in PSL 8. The quick-witted Sultan Ehsanullah defeated the Gladiators of Quetta in anger. He destroyed the batting line-up by taking 5 wickets for Quetta.
According to details, Multan Sultans won the toss and invited Quetta to bat first, which turned out to be a nightmare for Sarfraz XI.
Quetta Gladiators returned to the pavilion after scoring 110 runs in 18.5 overs, Multan Sultans bowler Ehsanullah took 5 wickets for 12 runs in 4 overs, Quetta heavyweights fell like autumn leaves in front of the fast bowling.
Captain Sarfraz Ahmed bowled by Ehsanullah, he managed to score only 2 runs, all-rounder Iftikhar Ahmed was bowled by the fast bowler without opening his account, the most important wicket of Jason Roy also came to his account.
In #Sultan's detachment to beat Quetta 111 should be chased.#HBLPSL8 #LetsPlaySaeen pic.twitter.com/ncLy0uFjl8

— Multan Sultans (@MultanSultans) February 15, 2023
Umar Akmal's run, who was out of form for a long time, was also completed by Ehsanullah, he scored 11 runs, he also took the wicket of fast bowler Nasimshah.
On behalf of Quetta, Jason Roy scored 27 runs, Mohammad Hasnain scored 22 runs and Mohammad Hafeez scored 18 runs. Apart from Ehsanullah, Samin Gul, Abbas Afridi and Samo Mir also got one goal each.
In pursuit of the goal, the players of the Sultans hit with full responsibility and did not allow the players to run. Quetta easily reached the target in the 14th over with the loss of one wicket.
Riley Russo scored a brilliant half-century and scored 78 runs. Captain Mohammad Rizwan also remained neutral by winning 28 games.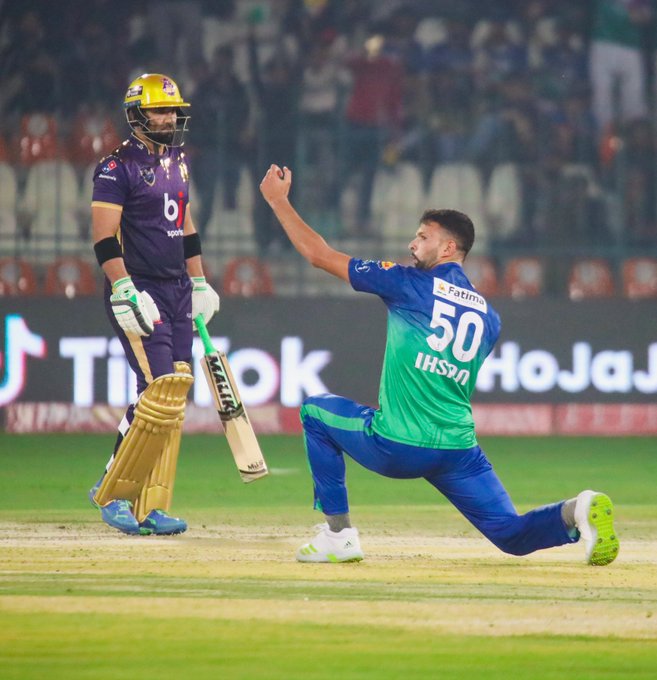 Muhammad Rizwan, speaking after the ball, said he would try to restrict Quetta to a low score.
Multan Sultans will be playing this second consecutive home match in PSL 8. In the opening match of the event, reigning champions Lahore Qalandars beat Sultans by 1 run after a thrilling encounter.
Comments