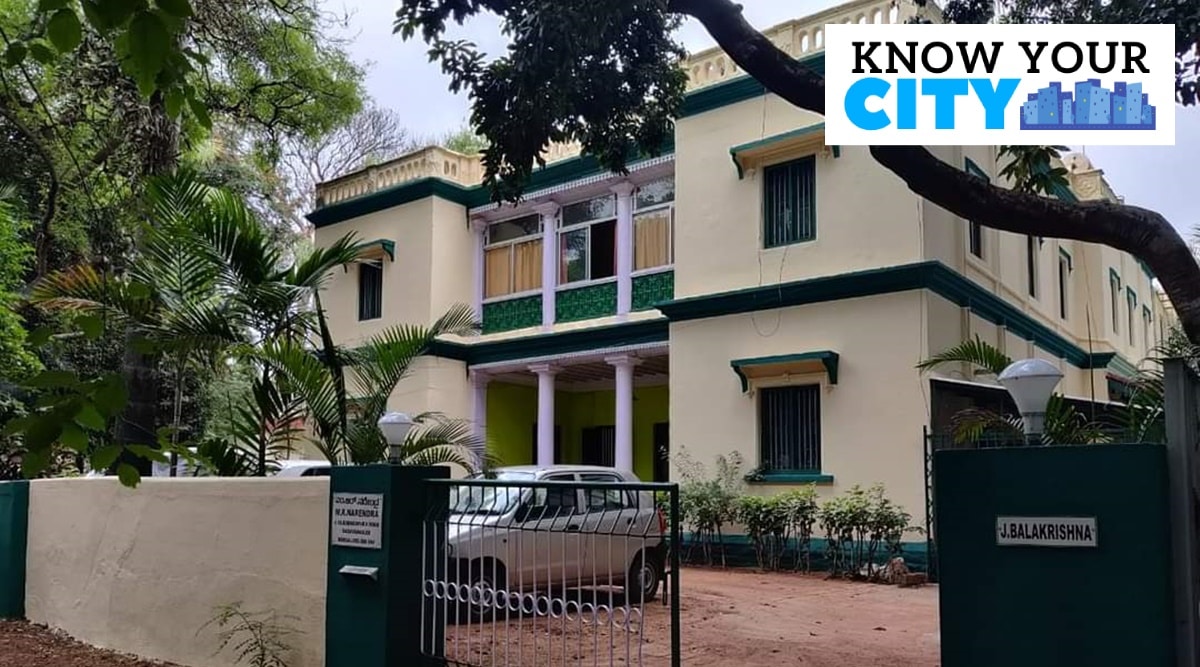 The history of Bengaluru in the early 1900s is inextricably linked with the Dewans of Mysore, who were in large part responsible for the prominent position that Mysore held among the princely states of the time. In monuments and museums today, Dewans like Sir M Visvesvaraya, Sir Mirza Ismail, and Sir K Seshadri Iyer live on. Along these lines, the legacy of Sir MN Krishna Rao, who was Dewan from 1931 to 1933, is still very much a part of Basavanagudi.
One way in which this heritage survives is in a typical old Basavanagudi house on the corner of Kanakapura Road and North Public Square Road. While not obvious at first glance, this is the Dewan's own home. At 115 years old, it is the third house ever built in Basavanagudi and has been maintained in the same condition in which it was built by the Dewan's family. Dewan's nephew, MR Narendra, lives with his wife on the first floor of the property, while his brother's family lives above.

Speaking to Indian Express, Narendra said, "The grahapravesam ceremony for the house was completed in 1907. The family was settled in Bangalore and almost 40 family members lived in this house… Sir MN Krishna Rao often went to Mysore since he was serving as Finance Secretary before he was appointed as Dewan… I remember him teaching us grandchildren in the morning."
Commenting on Dewan's legacy, he said, "Sir MN Krishna Rao revived Bhadravati Iron and Steel, which had lapsed at that time. He has not received any salary for the three years when he worked as the chairman of Hekur".
The family also boasts of many dignitaries who have visited the house, from other Dewans of Mysore to members of the royal family. The Crown Prince himself had visited the house in 1935 to see the family-owned Scott 15-valve radio, which was one of only three in India at the time. A 19th century Ansonia wall clock also remains in working order.
The most read
1
India vs Sri Lanka Live Score Asia Cup 2023 Final: Mohammed Siraj's spell helps India win Asia Cup 2023
2
Ridhi Dogra says it's 'unfortunate to play' Shah Rukh Khan's mother in Jawan: 'He told me many times…'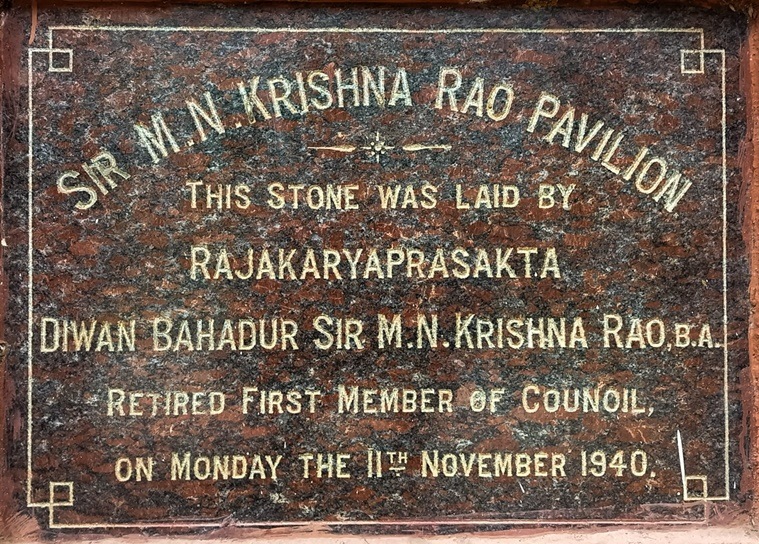 Foundation stone at Sir MN Krishna Rao Park. (Express photo by Jithendra M.)
The house itself doesn't look old until the careful visitor begins to observe the details – such as the light switches, nearly a century old and still in working order. Other memorabilia of Sir MN Krishna Rao is on prominent display, such as his certificate of admission as a knight to the Imperial Society of Knight Bachelors, with the original seal still intact.
The architecture itself is a testament to Bengaluru's post-plague architectural trend, with a wide open courtyard, Madras-style terrace and raised verandah. The original Cudappa tiles characteristic of this style were early replaced by Italian style tiles made in Yelahanka. Among other Dewan memorabilia held by the family is a 1935 Standard Coventry car, which was purchased by Dewan. According to his great-nephew, J Balakrishnan, "It still runs very well and we attend all vintage rallies in Bengaluru and outstation."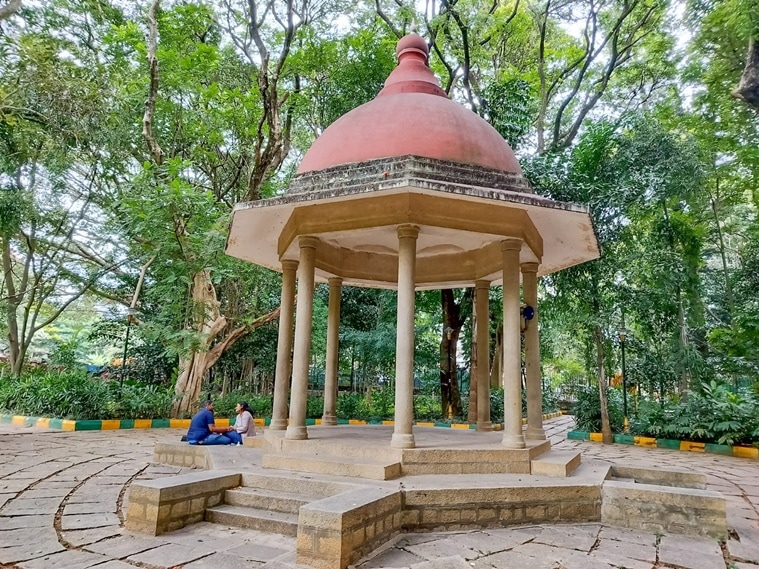 According to Dewan's family, he envisioned a park on the site that would benefit local women and children. (Express photo by Jithendra M.)
Dewan also had a hand in the park that today bears his name – Sir MN Krishna Rao Park. According to historian Meera Iyer in her book Discovering Bengaluru, early photographs of the park site reveal a simple open space. According to Dewan's family, he envisioned a park on the site that would benefit local women and children, thus donating a sum of Rs 20,000, with a sum of Rs 15,000 later donated for the construction of the central pavilion, which still stands today . . The pavilion (also named after Sir MN Krishna Rao) was designed by the famous German architect Otto Koenigsberger. Koenigsberger, who was the Chief Architect of Mysore at the time, is also responsible for the construction of a number of buildings across the city, such as the Victory Hall at Cubbon Park.