Tazaa News latest news updates,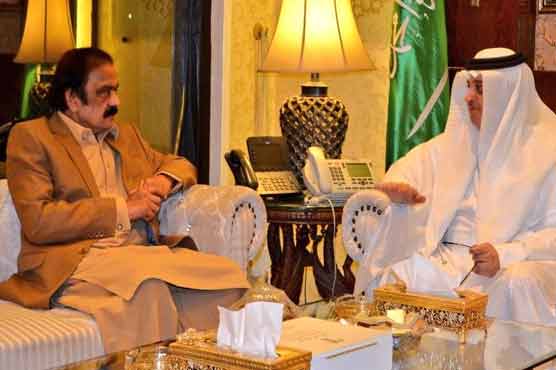 Islamabad: (Web Desk) Interior Minister Rano Sanullah arrived at the Embassy of Saudi Arabia, Saudi Ambassador Nawaf bin Saeed Al Maliki welcomed the Interior Minister.
During the meeting, the two representatives discussed bilateral relations between Pakistan and Saudi Arabia and other issues of mutual interest, discussed the implementation of the "Road to Mecca" agreement between Pakistan and Saudi Arabia.
In this meeting, it was agreed to complete this agreement and make it fully active, in this regard, the interior minister was informed that the deputy interior minister of Saudi Arabia will soon visit Pakistan to sign the agreement.
He said that within the framework of this project, easy conditions will be created for the pilgrims without obstacles, this project will start soon from the big cities, the ambassador of Saudi Arabia will do everything in his power to release the Pakistanis imprisoned in the prisons of Saudi Arabia as soon as possible.
Interior Minister Rano Sanoullah said that Pakistan and Saudi Arabia have historical, long-standing and brotherly relations.