Tazaa News latest news updates,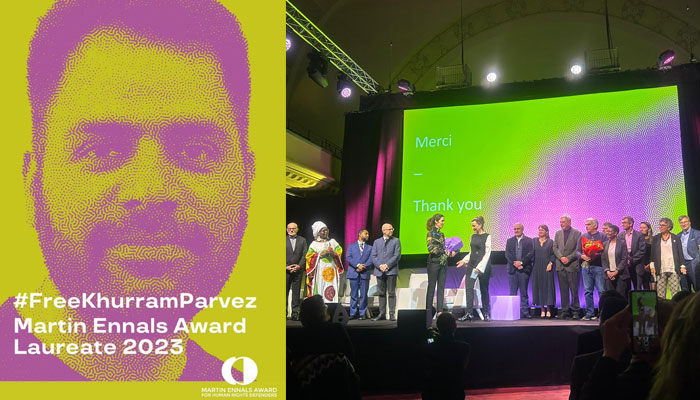 Khurram Pervaiz, a prominent human rights defender from Occupied Kashmir, was awarded the Martin Annal Award for his services.
In this regard, the Chairman of the EU Kashmir Council Ali Raza Syed demanded the international community to put pressure on India to release the famous human rights leader Khurram Parvez and other Kashmiri human rights activists and Kashmiri political leaders and journalists.
He said this after attending the Martin Annals award ceremony in Geneva.
The Martin Annals Foundation presented the award to Khurram Parvez, who is also the chairman of the Asian Federation to Combat Enforced Disappearances, for his outstanding services to the human rights of Kashmiris.
Khurram Parviz, a prominent Kashmiri activist, could not personally receive the "Martin Yearbook" award in Geneva due to his imprisonment in an Indian prison.
The award was received by Khurram Parviz, another human rights activist and manager of the Asian Federation's Campaign Against Enforced Disappearances, Muhammad Ashraf-ul-Zaman.
Ashraf-ul-Zaman recited Khurrami Parvaiz's message after receiving the Khurrami Parvaiz award and also talked about his hardships in prison.
In his message, Khurram Parviz expressed his gratitude to the award committee of the Martin Annals Foundation for awarding the award.
He said that though the voice of Kashmiris is not heard in the world, but this award is a recognition of the unheard sufferings of Kashmiris for decades.
Chairman of the Kashmir Council of the European Union, Ali Raza Syed, said that the event highlighted the violation of human rights in occupied Kashmir, and it was also said that Khurram Parvez, who has been accusing India of baseless accusations for the past 15 months. in prison, is fighting to reveal to the world the evidence of human rights violations in occupied Kashmir.
During the event in Geneva, a documentary on the rights of the people of Occupied Kashmir was also screened, which reflected the conflict in Kashmir.
The Chairman of the Kashmir Council of the European Union said that Khurram Parviz's struggle for human rights will be described at this international event and the awarding of this award to him will bring recognition of the rights of Kashmiris at the world level.
At this event, it was told what difficulties Khurrami Parviz and his team went through while working for human rights.
Even before his current imprisonment, he was arrested and banned from traveling abroad.
.