Tazaa News latest news updates,
New Delhi:
Union Law Minister Kiran Rijiju has termed a documentary series on Prime Minister Narendra Modi aired by the British Broadcasting Corporation BBC as a smear campaign against Prime Minister Modi inside and outside India. Kiran Rijiju told the BBC that some people in India have not yet recovered from colonial addiction. They are reviewing the BBC above the Supreme Court of India. To please their bosses, they lower the reputation of the country to any extent.
Union Law Minister Kiran Rijiju said in a tweet that there is no better hope from the members of these splinter groups whose sole aim is to weaken the power of India. Rijiju said that the minority or let's say every community in India is progressing positively.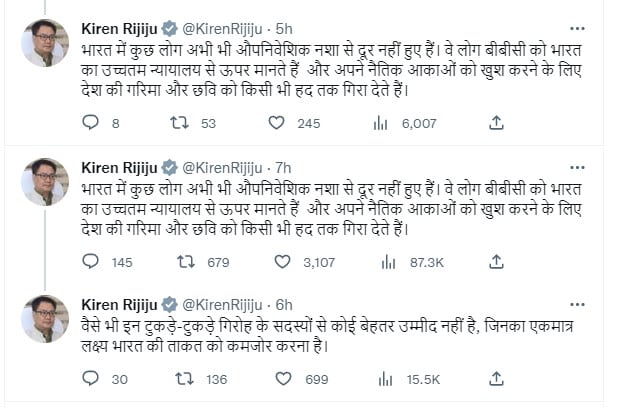 He further said that India's reputation cannot be tarnished by malicious campaigns carried out inside or outside India. Prime Minister Narendra Modi's voice is the voice of 1.4 billion Indians. Earlier, RAW chief Sanjeev Tripathi had criticized the BBC over Prime Minister Narendra Modi.
RAW chief Sanjeev Tripathi has said that a BBC documentary on Indian Prime Minister Narendra Modi is biased, fabricated and full of factual errors. He said that everyone should condemn this documentary. Sanjeev Tripathi said that in the BBC documentary on Prime Minister Modi, incidents of Gujarat riots and train burning in Godhra, which everyone is aware of, were mentioned.
Also Read: PM Modi to visit 21 uncharted islands in Andaman and Nicobar tomorrow
Also Read: Bharat Jodu Yatra to resume in Jammu and Kashmir amid tight security, Rahul Gandhi …..!
He also said that the Supreme Court had recently given Prime Minister Narendra Modi a clean chit in a related case.
Published by:Imtiaz Saqib
First published:
First Read Urdu News on News18Urdu, Breaking News in Urdu. Read today's latest news, live news updates, reliable urdu news on news18 urdu.com, know all details related to your state, country and abroad and especially middle east, entertainment, sports, business, health, education and employment. . Follow News18 Urdu on Twitter, Facebook, Instagram, YouTube, DailyHunt, ShareChat and Quoap.
.