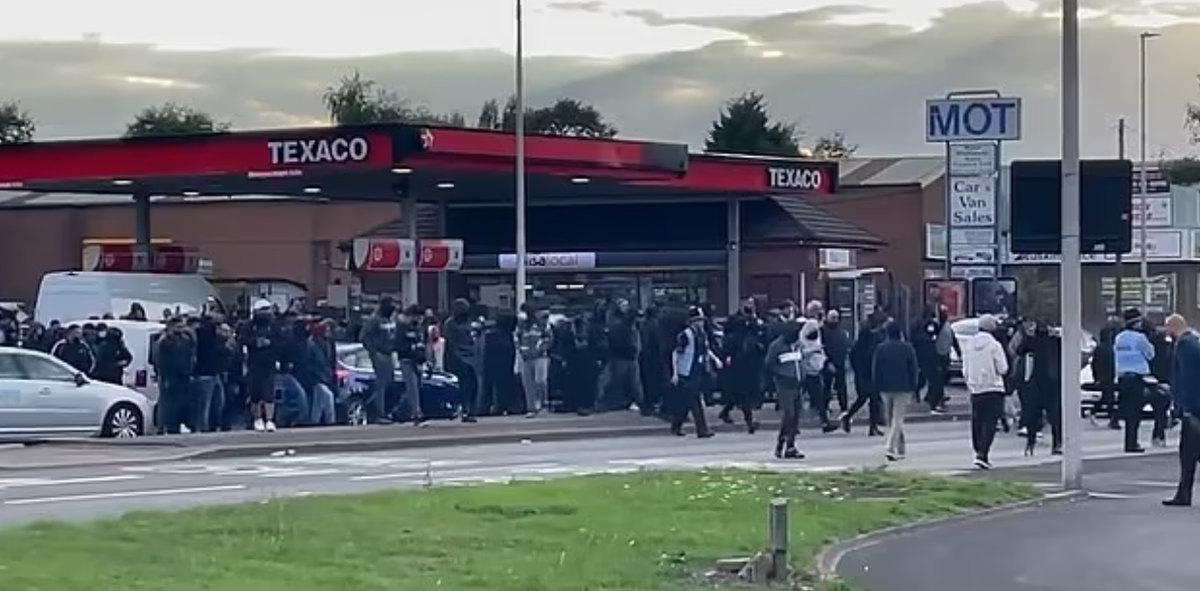 Leicester residents are said to be "terrified" to leave their homes after sectarian tensions led to clashes in the city, which have now spread to Birmingham.
A number of masked people gathered outside the Durga Bhavan Hindu temple in the Smethwick area of ​​Birmingham on Tuesday night to protest against the planned event.
Police with riot helmets and shields were seen confronting the crowd and trying to evacuate them from the temple as the protesters scaled the border fence around the area.
A man was arrested on suspicion of possessing a knife after witnesses said bottles and firecrackers were thrown.
Were you moved by this story? If so email [email protected]
Leicestershire police arrested 47 people after clashes erupted in Leicester days after a recent cricket match between India and Pakistan, just days after clashes erupted on Saturday and Sunday.
Hindu and Muslim leaders in Leicester called for unity and peace.
"Our two faiths have lived in harmony for more than half a century in this wonderful city," it said. "We came to this city together, we faced the same challenges together, we fought racist haters together, and collectively we led this city to diversity and community unity."
Leicester East MP Claudia Webbe said communities in her constituency had been traumatized by the violence at the weekend.
"People have told me that since the first spark of the India vs. Pakistan cricket match on August 28, people have not left their homes," Webbey said. The Independent.
"I deal with a large number of communications and residents, especially women and young people, who need support. They were very scared and scared. They want to fear their neighbors, people who have grown up side by side for decades.
"People who work in factories say they've been reduced to the means to go home and protect their families. That's worrying because they're already living in poverty; they can't sustain the further loss of income. It's a real wound that's left in society."
The former Labor MP, now an independent after being accused of harassment, fears the situation is not isolated.
So far, one man from Leicester has been jailed for his role in the incident, but police have confirmed that many of those arrested are from outside the city.
Amos Noronha, 20, was sentenced to 10 months in prison after pleading guilty to possession of a dangerous weapon in connection with violence, but no further details of his crime have been released.
Local councilor Ahmed Boston condemned the scenes, writing: "The disgusting scenes witnessed in Smethwick tonight do not represent the harmonious great diversity of our town and those with ill intentions will be dealt with by the law.
"Our communities stand together against this kind of bigotry and peddlers of hate are not welcome here."
Ms Webbe warned that extremist groups had spread "hateful messages" on social media aimed at inciting violence among young people.
"We need to address the extremism and right-wing fascism that plagues our online media because this is where demonization and incitement to religious and racial hatred is being shared and fostered," Ms Webbe said.
A West Midlands Police spokesman said an 18-year-old man had been arrested on suspicion of possessing a knife during a protest in Smethwick.
"Following the protest meeting in Smethwick last night [20 September]There was some minor disorder and one person was arrested.
"We had a pre-planned police presence near the temple in Spawn Lane, where firecrackers and missiles were hurled at our officers. Fortunately, no one was injured.
"We are also looking into reports of a small number of damaged cars.
"To help ensure serious violence does not break out, we have had stop and search powers until this morning. We continue to provide a visible police presence, working closely with faith leaders and partners across the community to provide reassurance.
"We will continue to monitor the situation locally and across the region."
Both the Indian High Commission and, on Tuesday, the Pakistan High Commission condemned the violence.
Leicestershire Police said they were given more resources with additional officers deployed from the West Midlands, Derbyshire and Nottinghamshire.
Horses from Thames Valley Police have also been deployed in the city, the force added.