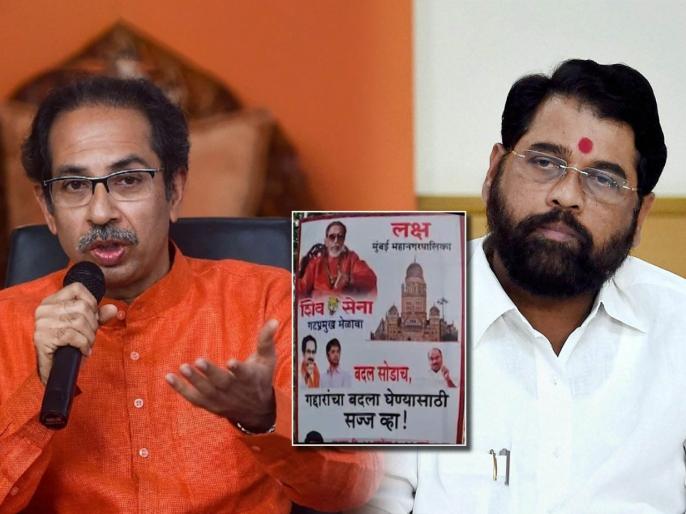 Maharashtra Politics: Elections are going to be held for municipal corporations and local bodies in many places in the state including Mumbai, Thane. But, the focus of the country along with the entire state is mainly on the Mumbai Municipal Corporation elections. Because, the BJP and the Shinde group are gearing up to give a strong challenge to Uddhav Thackeray. After the unprecedented revolt in Shiv Sena, Uddhav Thackeray has faced a new challenge to save the party. In this, the election of Mumbai Municipal Corporation is definitely not easy for Shiv Sena and Uddhav Thackeray. A new slogan has been given by the Shiv Sena saying, Leave the change now, get ready to take revenge on the traitors.
The discussion of this new slogan of Shiv Sena has started. The Shiv Sena has seen its opponents jerry-rigged through tag lines before. Recently, 40 rebel MLAs received 50 boxes of slogans and flexes with slogans such as "Okke Okke, No Pardon for Traitors". Given the history of Shiv Sena, the Sena has always used tag lines for its propaganda and criticism of its opponents.
Leave the change and get ready to take revenge on the traitors
In the previous municipal elections, the tag line was 'Done,' and now in the upcoming municipal elections, the Sena is facing the election with the tag line 'Leave change and get ready to take revenge on the traitors'. The upcoming Mumbai Municipal Election is going to be very prestigious. For this election, every party is trying to reach the common people by fighting different issues. Everyone is looking at whether the Shiv Sena, which has been in power in the Mumbai Municipal Corporation for the past several years, will get another chance.
Web Title: shiv sena new tagline for next bmc election 2022
Get Latest Marathi News , Maharashtra News and Live Marathi News Headlines from Politics, Sports, Entertainment, Business and hyperlocal news from all cities of Maharashtra.
.