Tazaa News latest news updates,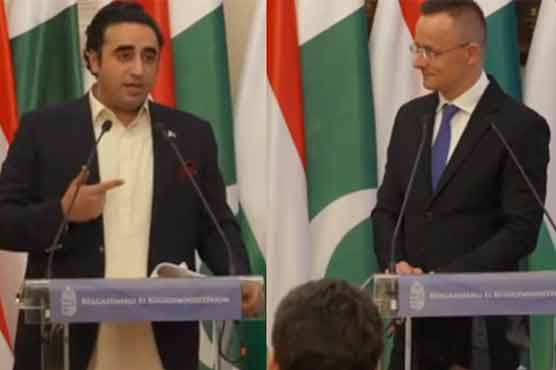 ISLAMABAD: (Web Desk) Foreign Minister Bilawal Bhutto Zardari has said that Pakistan is ready to expand mutual cooperation with Hungary and attaches great importance to its friendly relations with Hungary.
Speaking at a joint press conference with his counterpart on the occasion of his visit to Hungary, the Minister of Foreign Affairs said that the two countries have long-standing friendly relations, during this visit the issue of scholarships for Pakistani students for higher education in Hungary was discussed.
Bilawal Bhutto Zardari said that his visit to Hungary is the beginning of a new era of Pakistan-Hungary relations and played a favorable role in its growth.
The foreign minister said that today Pakistan and Hungary also signed three memorandums of understanding, one of which will be cooperation in the field of sports, cooperation of diplomatic academies, academies of foreign services of Pakistan and Hungary to each other's diplomats. While the third memorandum of understanding. referring to the increase in scholarships for Pakistani students in Hungarian universities, he said that this initiative of the Hungarian government is commendable.
Bilawal Bhutto Zardari said that as a result of this memorandum of understanding between Pakistan and Hungary, the number of scholarships will increase from 200 to 400. He said that economic relations between Pakistan and Hungary will also expand. Many mutual consultations took place between them. countries that provide different opportunities.