Tazaa News latest news updates,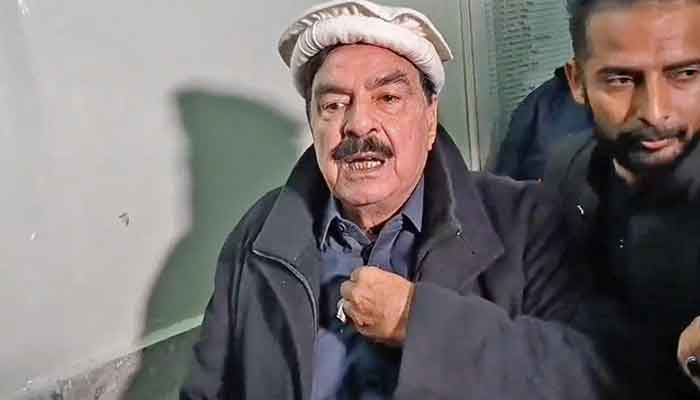 The local court of Islamabad rejected Sheikh Rasheed's request for physical arrest in the case related to the assassination of the former president Asif Zardari and sent him to prison.
Sheikh Rasheed, who was arrested in the case related to the murder of Asif Zardari, was presented to the court of the judicial prosecutor Umar Shabbir after a two-day physical arrest.
During the request for the further detention of Sheikh Rashid for 5 days, it was said on behalf of the investigator that the voice matching test of Sheikh Rashid was conducted and the photogrammetric test of Sheikh Rashid was not conducted yet.
Sheikh Rashid stated in the court that it is better to give me the death sentence than what the police said, if something happens to me, 5 people will be guilty, if something happens to me, Asif Zardari, Bilawal Bhutto, Mohsin Naqvi, Shahbozi Sharif and Rana Sanaullo are guilty.
They said I was strapped to a chair, I needed to be sent to the hospital, there was blood on my legs and hands, I needed a bandage, I needed to be protected from the Rangers.
Sheikh Rashid's hands were opened by the order of the court, the court said "show me the wounds you have", Sheikh Rashid showed the wounds on his hands to the judge.
Former interior minister said what imran khan said right, police recorded me three times yesterday, both my mobile phones are with police, they asked me how i got 8 million followers in one day, i told people I want you to double my Twitter followers.
Sheikh Rashid said that they are investigating me politically, I have not been investigated for this case, they are asking me whether I will lead Imran Khan's political campaign. I said yes, I am going, everyone in the police up to ASI is with Imran Khan.
The court ordered that the transcript of Sheikh Rashid's interview be handed over to the defense attorney. The defense attorney of Sheikh Rashid, Sardar Abdul Raziq, said that the human rights of his client are being violated and he is requested to be arrested.
Sardar Abdul Raziq said that Sheikh Rashid's human rights are being violated, so what will happen to the ordinary citizen? , Sheikh Rashid admits his statement.
The court reserved its decision on the further physical arrest of Sheikh Rasheed after the conclusion of the arguments of the parties.
Later, the court rejected Shaikh Rasheed's request for physical custody during the sentencing hearing and sent him to prison under judicial custody.
.