Jalpaiguri News: Sukant said, "While we are enjoying the joy of Puja, many job seekers are protesting in the streets, it is a disgrace to the state."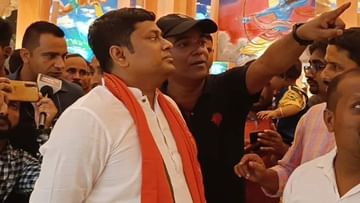 Sukant Mazumdar in Dhupguri.
Incense: BJP State Chairman Sukant Majumdar arrived at Dhupaguri's 'Ram Mandir' on Shashti night. The Uttarayan Club of Dhupaguri has built a pandal on the model of the Ram temple in Ayodhya. Sukant Mazumder visited that pavilion on Saturday. There, Sukant said: "Those who would be teachers, who had the qualifications, are forced to sit on the side of the road this time. May Mother Durga bless you. Mother Durga destroys demons, we see many demons here. They will all perish."
When the whole state is in the joy of Puja, the candidates scrambling for jobs are sitting by the roadside even on Mahasashthi morning. They said they will not deviate from the path of the movement until the appointment is made. On this day, Sukant Majumdar said, "Even during Puja, job seekers have to sit and protest in the streets. May Mother Durga destroy the demons. It is a disgrace to our state. As we enjoy the joy of Puja , many job applicants who are going to be teachers are protesting in the streets".
However, Trinamool spokesman Kunal Ghosh was heard to say at a press conference on Saturday: "The prime minister feels the pain of those who work as teachers. We are in favor of sanctioning those who are involved in corruption in recruitment." of teachers. The court has been informed by the SSC, what model will be followed. As a result, there is nothing in the hands of the SSC or the government." He also said about spending holidays with the families of job seekers. At the same time, Kunal shot the opponents. According to him, the opposition doesn't want the mess to end. This is not a platform for politics. Opponents can't get close to humans. So using this platform.
Together with Dhupguri, Sukant Majumdar inaugurated the Mekhligonj Matrubhoomi Sarvajanin Durgotsava Committee puja. MP Jayant Kumar Roy was also there. The puja mandap is modeled after a temple in Jharkhand.
.