Tazaa News latest news updates,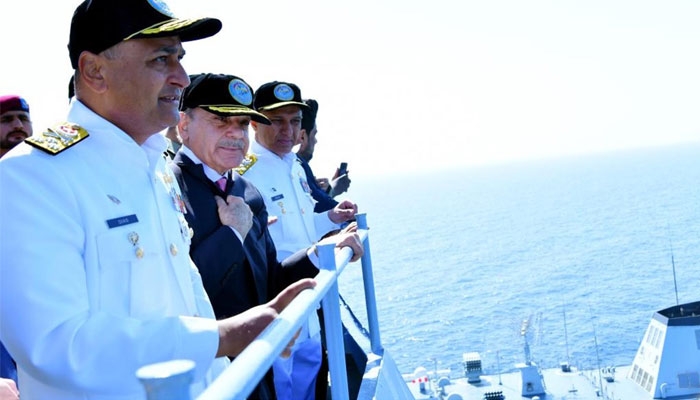 Prime Minister Mian Shahbaz Sharif on the last day of the Multinational Peace Exercise 2023 reviewed the deep sea exercises and naval fleets of the Pakistan Navy and other countries.
On the last day of the Peace Exercise 2023, Prime Minister Mian Shahbaz Sharif along with members of the Cabinet, Sindh Governor Kamran Tesori, Sindh Chief Minister Syed Murad Ali Shah, Chairman of the Joint Chiefs of Staff Committee and Chiefs of Services discussed the exercises and naval fleets in the open sea. .
Speaking to the media, the Prime Minister said that the purpose of the exercise is to be ready for peace in any situation and environment.
Domestic and foreign naval ships and air fleets conducted exercises in the open sea, refueling of the ships was demonstrated during the exercise, Pakistani naval personnel conducted operations against pirates with the help of special forces using the helicopters of the "Three King" ship.
Warships of the Pakistan, Chinese and Indonesian navies exchanged heavy gunfire in the open sea and the Pakistan Navy also fired missiles.
JF-17 Thunder, P3C Orion, ATR aircraft, Sea King helicopters and Zulu helicopters flew during the peace exercise.
Fifty countries participated in the five-day 8th Multinational Peacekeeping Exercise organized by the Pakistan Navy. On the last day, Indonesian, American, Italian, Sri Lankan, Japanese, Chinese and Malaysian ships and missile boats participated in the open sea exercise. also participated.
.