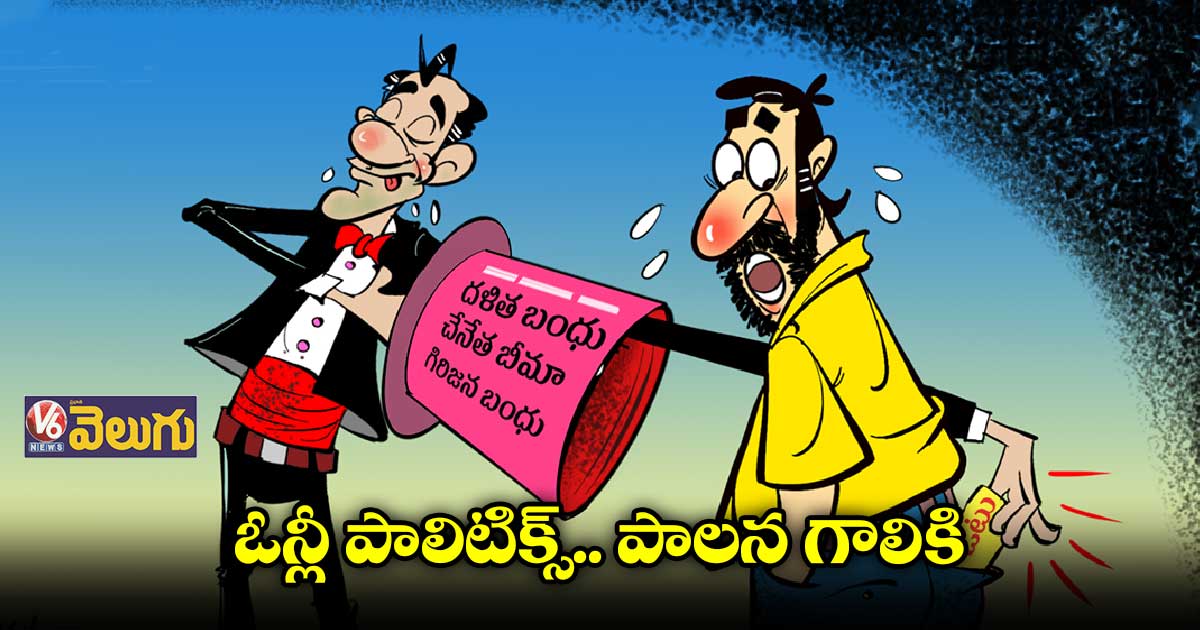 HYDERABAD: The state government, focusing only on politics, has sidelined administration. It is passing by as if there is no leisure without caring about the well-being of the people. Day by day, people are coming on the road, they are going around the Tehsildar offices and Collectorates to express their grievances, but there is no response. Some of the officers who have to deal with the applications are vying to win favor with the ruling party leaders. Students are raising concerns that they cannot provide proper food in the hostels.. The students of hostels and gurukula are being admitted to hospitals due to food poisoning, but the government is not budging. If the students protested consecutively in Basara TripleIT. Family planning operations failed and four women died but there was little response.
In addition to crop loss, farmers are committing suicide due to debts, but no effort is being made to reassure them. Dharani's wrongs, sit-ins of victims in front of collectorates due to land disputes, agitations to get hold of waste lands, protests of VRAs to give pay scale, the government is acting as if nothing is happening. Beneficiaries are staging sit-ins for Dalit Bandhu.. Deserving people are begging to be given pensions, but they are acting as if they are not paying attention. They are holding meetings, meetings and press meets saying that they are fighting with BJP.. People are taking light of Gosa.
100 farmer suicides in 3 months
A hundred farmers have committed suicide in the state within these three months. According to the records of the National Crime Bureau, Telangana ranks third in the number of farmer suicides in the country. 5,950 people committed suicide from 2014 to 2021. The government is not paying attention to the suicides due to the farmers' insurance. In this season, crops are damaged due to rains and farmers are committing suicide due to lack of investment. The government is not assuring them that they will stand by even if this is happening. Crops were damaged in 14 lakh acres in the state due to rains. Although the crop loss is estimated, the figures are not disclosed. Crop insurance is not implemented in the state. No input subsidy has been declared and no compensation has been announced. 32 lakh farmers have to pay interest on the loans they have taken without the implementation of the farmer loan waiver guarantee. During the 2018 assembly elections, KCR promised to waive the loans under Rs. So far only 5.60 lakh people with debts of less than Rs.50 thousand have been waived off their loans. Loans of Rs.18 thousand crores belonging to 32 lakh people remained the same.
Controversy
In Dharani, thousands of farmers are roaming around the Tahsildar's offices with applications that their lands have been lost. Farmers attempted suicide on Grievance Day in Suryapet, Janagama and Gadwala Collectorates on Monday. Such incidents are happening every week. Aggrieved by the non-arrival of pattadaru pass books and unresolved land disputes, farmers are trying to commit suicide near Collectorates and Tehsildar offices. The government announced 2 months ago that it will hold revenue meetings to solve the land problems. More than 10 lakh applications have been received for solving various problems in Dharani. Of this, 4 lakh applications were rejected without giving reasons.
Food poisoning in hostels
Incidents of food poisoning are happening frequently in welfare hostels, Gurukuls and Kasturba Vidyalayas. Students are being given lunch with inferior goods. So far 715 incidents of food poisoning have occurred in Gurukuls in the state. In these 2 months, 42 such incidents took place. Criticisms are coming that the government has failed in conducting time to time reviews, increasing mess charges and strengthening supervision. A student died of a snake bite in a welfare hostel in Nizamabad district. On Monday, several students fell ill due to food poisoning at Balugala Minority Gurukulam in Kagaz Nagar mandal of Asifabad district. 83 students fell ill after eating lunch at ZP High School in Maganur, Narayanapet district. Recently, research scholars in Osmania University and students of ladies hostel have also raised concerns that food is not being served properly in the hostels.
Carelessness kills people
Recently in Ibrahimpatnam Ku.ni. Four women who underwent operations died. The woman went into a coma and died after arriving at Nalgonda Government Hospital for delivery. These incidents have highlighted the conditions in government hospitals. The government is not paying attention to the hardships of the employees even though the VRAs have been protesting for 55 days. Attempting to restrict the VRAs demanding implementation of pay scale has raised a furore. Recently, during the time of assembly meetings, protests by teachers to allow transfers of VRAs and husbands and wives brought the Telangana movement to the fore. Teachers' groups are expressing their concern over non-payment of salaries on the first date and non-payment of pending DAs.
Podu Panchayat Ketede?
The state government is talking about waste lands. Applications were taken in October last year. It has been a year but they have not been resolved. The government, which has ignored the fact that it is under the central government, has recently set up district coordination committees. The cultivators of waste lands are expressing their concern that they will be granted licenses or applications will be submitted as such. A year has passed since receiving applications for regularization of house plots under Geo number 58 and 59. Around 4.50 lakh applications are pending.
Waiting for pensions
The government, which has been adamant about new pensions for almost three years, is now adopting the same trend in granting them. The support pensions which are received from the 1st to the 10th are not being received even at the end of the month. Even though the 20th of this month has come, the pensions for the month of August have not been paid. The government is announcing that it is giving pension to 10 lakh people. Pension cards have not been distributed in many villages. Eligible people are not getting benefits as their names are not in the list of Asara beneficiaries.
It is enough to get the praise of the leaders..
Due to the apathy of the government, some officers are forgetting their responsibilities. Ministers and ruling party leaders are acting as if it is enough. The Grievance Day is being run as a moron and the grievances of the petitioners are not taken into consideration. Recently Suryapet SP Rajendraprasad.. in front of all the people, the district 'Minister Jagadish Reddy Jayaho'.. 'Jagadish Anna' was praised. The minister was compared to Baahubali. And Sangareddy Collector Sarath.. CM KCR was glorified as Abhinava Ambedkar. Earlier, when Sarath was working as Kamareddy Collector, CM KCR was in the news. Siddipet Collector Venkatrami Reddy, who had planted KCR's legs earlier, was given an opportunity by the government to become an MLC in the MLA quota of the ruling party. Some of the officers are being criticized as loyal followers of the ruling party.
Suicides are increasing..
From 2014 to 2021, 5,950 farmers committed suicide. But the government is taking the light. Although crops were damaged in 14 lakh acres due to recent rains, there is no assurance.
Many people did not pay the bank loan because the government will waive the loan. For five years the interest has exceeded the principal. Loans under Rs.50 thousand have been waived. Another 32 lakh farmers are waiting. Dharani Agamagam More than ten lakh applications have been received for solving problems in Dharani. Out of them, 4 lakh applications were rejected without giving any reason. The government said that they will hold revenue meetings.. but now there is no way.
Child care in hostels
So far 715 incidents of food poisoning have taken place in Gurukuls. Within two months, 42 children were hospitalized with vomiting. There is no direction to care even if the rice of insects is put. Pensions due from the 1st to the 10th are not being received till the end of the month. Even if the 20th of this month comes, the support pensions for the month of August will not be paid yet. Not to mention the new ones. Identity cards were not distributed.
Podu Panchayat
Govt's crackdown on endangered lands. It has been a year since the applications were received. Do you have rails? Or will the applications be put as they are? Every day the victims are worried.
Four women died.
In Ibrahimpatnam, four women died after family planning operations went awry, but there was no response from the government. Pregnant women who give birth in government hospitals are not missing out. In some places, rats are biting the patients.
The problems of the employees are not all
VRAs have been protesting for 55 days. Teachers are hitting the road for transfers of husband and wife.. Employees are worried about not being paid salary on the first date and pending DAs are not being given.
.